Hello dollies!
One of the latest fashion in trends in Japan are the kawaii and outragous deco nails. Over in the Land of the Rising sun, there is no such thing as toned down, and young teenage girls and young adults are getting in touch with their inner kawaii side. In this two part post, I'm going to show you some trendy and cute nails that are worn by some of Tokyo's female youth, and a D.I.Y that you can do for a very cheap and reasonable price! GALs, get ready for the kawaii high!
Hime/ loli style
Calling all Hime Gals and Lolis! These nails will sure make you the talk of you next dolly tea party or the belle of the ball!
Kawaii~
Very perfect for gothic loli style! I love the bling, and black and silver color pallate.
This kawaii kitty seems to be everywhere in Japan, and is even proudly worn on finger nails.
The bows are a cute touch, still adding a kawaii feel and is perfect for those who are still a little afraid to go all out as you wish ;)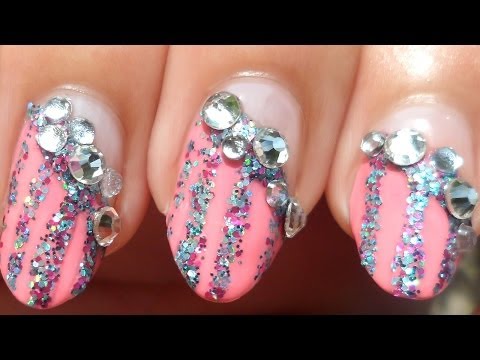 Wanna go simple? Here's another alternative for you that is still cute, yet so simple.
GAL
The make- up and hair is an important part of being a GAL, but another must have is nails!
Pink, pink, and tons of pink! This design puts a whole new spin to glitz and glam :)
The very uncommon trend in Japan, nail seals are becoming increasingly popular, especially among young school girls since they are easy to remove by the end of their school vacations (nail polish are not allowed in some schools in Japan).
Well here are just some of the examples of the popular nail art trends, but are you capable of replicating such cute and intricate designs?
I'm about to put that theory to the test, and show you how you can get praise worthy nails, without investing in various stamp ons, or flimsy stencils that seem to just peel off you top coat or never work. The only thing you need is your trusty nail polishes and you'll be ready to go!
Up for the challenge?
Keep a look out for part two, where I'll show you how to do, glitzy zebra print nails!
Unfortunately dolls, this is the end of part one of Nail-Up. Remember to suscribe/add me to your google+ circles so you'll never skip a beat!
Remember to stay beautiful, and see you in the next article ;)